Dit evenement is voorbij.
Appl.AI SPLASH Event 2022 
6 oktober 2022
–
10:00
|
17:00
Artificial Intelligence is changing the way we live, work and travel. It helps us to improve the competitiveness of Dutch industry and to develop innovative solutions that keep us healthy and safe. The big challenge to achieve this, is bringing AI expertise and domain knowledge together. That's why TNO want to invite the AI community to share experiences how to apply AI in the best possible way. On the 6th of October TNO organizes the Appl.AI SPLASH Event 2022 together with her partners at the Jaarbeurs in Utrecht.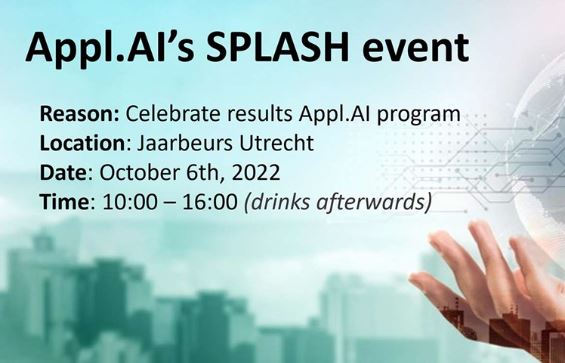 For the program, location and registraton: https://www.tno.nl/en/about-tno/events/2022/appl-ai-splash-event-2022/