Dit evenement is voorbij.
HI Speedtrack | sensors: from simple tools to integrated part of daily life
30 maart 2021 - 09:00

|

09:30
Gezien het succes organiseert HI ook in 2021 een aantal HI Speedtracks. De eerste serie vindt plaats in maart, april en mei van dit jaar. Dit keer hebben we er voor gekozen drie sessies te wijden aan sensortechnologie. Aan de orde komen trends op het gebied van sensoren, sensornetwerken en communicatie, en smart systems. Tijdens de HI Speedtrack op 30 maart neemt prof. Dr. Paddy French een korte blik op de ontwikkeling van sensoren en het brede scala aan toepassingen dat we vandaag aantreffen. Kijk hier voor meer informatie en aanmelding.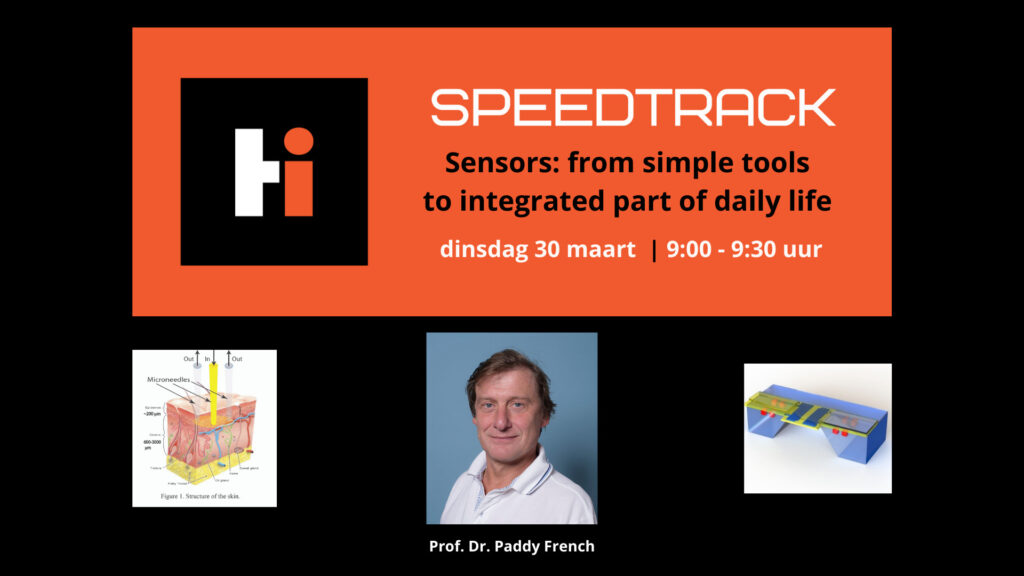 Sensors: from simple tools to integrated part of daily life
Abstract: People have used sensors for more than 2000 years, for weight, navigation, building etc. For most of that time, the sensor was a separate instrument read out with the human eye. The arrival of silicon sensors, and semiconductor electronics, brought about a revolution in how we see and use sensors. Initially the sensor was a separate unit, as before, but could connect to electronics for read-out or further processing. As sensor technology developed, the sensor was increasingly integrated with electronics in a single package, or on a single chip. This combination allowed us to eliminate many unwanted effects such as drift and cross-sensitivity to create accurate and reliable devices. Increasing reliability and reduction is size led to many new applications. Today sensors can be found in all aspects of our lives. The medical world uses a wide range of sensors for monitoring patients and making operations safer. Cars use sensor networks for safety, comfort and efficiency. Rotterdam has a network of sensors to detect any leakage/pollution from Europoort. These can detect the gas and also estimate the source. In our own homes, the mobile phone, which already contains a range of sensors, are increasingly being applied for medical monitoring.
Data eerste drie HI Speedtracks in 2021
30 maart | 9:00-9:30 uur. Spreker is Prof. Dr. Paddy French, Bioelectronics lab, Elektrotechniek, TU Delft. Titel: Sensors: from simple tools to integrated part of daily life
22 april | 16:30-17:00 uur
25 mei | 9:00-9:30 uur
Registratie 
Het webinar vindt plaats op dinsdag 30 maart van 9.00 tot 9.30 uur. U kunt zich hier aanmelden, waarna u de link ontvangt om mee te doen.