Dit evenement is voorbij.
Online Company visit @ Hittech Multin
1 april 2021 - 16:00

|

16:45
On April 1st YIN, The network for high-tech graduates and young professionals in the province South-Holland, is organizing an online company visit at Hittech Multin in The Hague.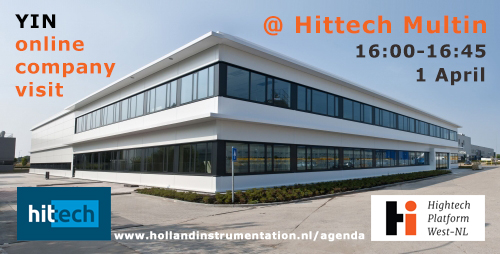 Hittech Multin
Hittech Multin is a system supplier that focuses on complex mechatronic modules and systems in the high-tech markets: medical, semicon and analysis. It is part of Hittech Group which is a well-established, growing company with distinctive expertise on production and development, an annual turnover of more than 120 million Euros, with 8 companies based in Europe, Asia and around 650 driven professionals.. Hittech strength is continuous improvement along with innovation and employee entrepreneurship.
During the online visit, you will be shown what Hittech Multin is all about. During the virtual company tour, we will show our work environment and have some of our engineers show and talk about a product that they have worked on.
Program
16:00
Check in Zoom
16:05
Introduction and key facts of Hittech Multin
16:15
Hittech Multin Online Company Tour
16:30
Networking
16.45
End of the online event
Location
This companyvisit will be through an online Zoom meeting.
Networking
The online company visit will be a great opportunity to learn more about Hittech Multin and the many different technologies and sectors they are active in. Of course, you will be able to meet other young professionals and to share experiences.
Apply
The zoom meeting will start at 16:00. You can apply by sending an email to: yin@hollandinstrumentation.nl. After registration, we will send you the zoomlink to attend.
About YIN
The Young Instrumentation Network (YIN) of HI brings the young high-tech professionals together. This includes PhD-student and master students in their final year. Our aim is to create the future high-tech network in the west of the Netherlands. To achieve this network we organize company visits and interesting lectures during the year. For more information: https://hidelta.nl/younginstrumentationnetwork/